So, when you work with us, you can rest easy knowing that you and your future home are in good hands. We take great pride in our work, and we will keep working until your new build project is completed to the highest of standards.
We are some of the best home builders in Northland, and with every one of our projects, we offer a Master Build 10 Year Guarantee – so you know that your unique new living space will be with you for many years to come.
When hiring tradespeople to carry out construction work for you, we understand that you should always be thorough when choosing the right people for your projects. Our team is happy to communicate with you and answer any questions or concerns you may have to ensure you that we are some of the best house builders in Northland.
What Great Home Builders Can Offer You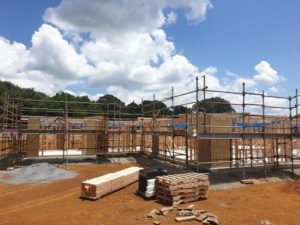 Excellently constructed Northland buildings are not the only things we can offer you, either – we also provide a selection of other services that can help you make your abode even more personalised and unique.
Along with creating great new builds, our Northland home builders are also available to alter or renovate sections of your structure once it is completely finished. Our trusty builders can visit your estate in Auckland, Wellington, Christchurch and other New Zealand areas to help you make your living space better.
Just like when we are creating entirely new structures for our clients, when it's time to start the renovation process, we will always communicate with you and keep you as part of the process. Altering your home is a considerable investment, and we want to make sure that you will be entirely happy with our results.
If your renovation involves contacting plumbers or other tradespeople for the job, such as if you would like a kitchen renovation or a bathroom renovation, then we will help you out with that as well. When you let us take care of all the little details, we can ensure that your new home renovation is completed to our high standards.
Additionally, our Muller's Construction team is also happy to provide New Zealanders with commercial lighting services.
We want to assist you with all of your construction needs, and when we help you with your commercial building lights, we will work within your budget and timeline so that you can have the best results.
Why A New Build Home Could Be Perfect For You
Choosing between constructing a new building versus buying an already existing house can be challenging. While having your very own specialised home is incredibly appealing, it can be quicker and easier to simply move into a prebuilt house.
So, why should you have a new residence built instead of buying a prefabricated NZ house? A few great perks that come with new build homes are:
You can be a part of designing your new house by talking with our friendly Northland home builder team.
Some older residences can contain outdated, potentially harmful substances in their structures. With a new build house, you can rest easy knowing that your house's materials are safe and reliable.
All of the features in your living space will be brand new, meaning you will have much fewer maintenance costs in the future.
How To Contact Our Team Of Home Builders
If hiring Northland home builders to build your new house sounds appealing to you, you should contact our trusty team at Muller's Construction as soon as you'd like to get the process started!
Our home builders in Northland are highly experienced, reliable and ready to work. When you work with us, we will make sure to always listen to you and work until you are completely satisfied.
Because we have heaps of experience and lots of happy clients, we know exactly how to keep projects on track and within budget. So, you will not have to worry about projects dragging on and budgets getting out of hand.
To get in touch, please contact us at 022 6935871 to speak to our team. We are always happy and eager to hear from you and see how we can help your situation, so please don't hesitate to give us a call!
From new build homes to house renovations, our master Northland builder team at Muller's Construction is prepared and excited to work with you!