Our team of fantastic Northland home builders has years of experience building structures, and we are thrilled to offer you a new build homes service. All you need to do is contact us and tell us about your wishes, and we will work with you to carry out your ideas.
The Differences Between Newly Built Homes Vs Existing Homes
As you can imagine, there are quite a few differences when comparing new build homes to prefabricated residences. While purchasing and moving into an already existing home can be quicker and more straightforward, having your own residence constructed from the ground up can have many advantages.
A few of these incredible perks include:
You Will Be Involved In Creating The Design Of Your Home.When you move into a prebuilt building, you will not be able to choose the design or layout of your house's exterior or interior. While you could shop around for a place that you love, having your future residence built from scratch opens up the opportunity to design a space that is precisely created for you and your family.
A Newly Built Home Will Not Contain Old, Harmful Materials. You are probably aware of the fact that older buildings and structures can have some potentially dangerous substances in them. These substances can include asbestos, mould, or even lead paint. Naturally, when a new building is created now, your trusted Northland home builders can avoid these nasty materials and use eco-friendly, non-threatening components instead.
You Won't Have To Deal With Competitive Buyers. Purchasing a prebuilt abode can involve dealing with other buyers who want the same house. However, with new build homes, once you own the land you would like your living quarters on, you will not need to worry about other people getting in between you and your future house.
Alterations And Renovations For Your New Home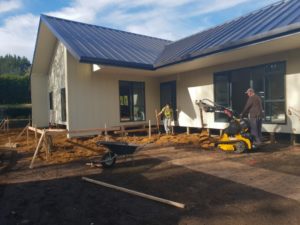 Naturally, when you hire home builders to construct your new New Zealand residence, you can pick what kind of style and look you would like for your specialised new build home. So whether you want a modern house or an old-style building, your trusted house builders can turn your ideas into reality.
But, what if your abode gets completed and you discover that you are not completely happy with a part of your new living space? After going through the process of building a new house, it would be not very pleasant to find that you are not satisfied with the job.
If this happens to you, don't worry, we will still be there for you! Our Muller's Construction team is happy to provide you with renovation services for your new build house even after your structure is fully completed.
We won't be satisfied until you are, and we will work with you until you are entirely pleased with your wonderful new quarters!
How To Get In Touch With Us To Start Building Your New House
If you have decided that you would like to have a new build home constructed instead of buying an already existing structure, we are here to help you! Our Muller's Construction team is eager to hear from you to get this process started!
If you currently have ideas for your future living space but would like to speak to new build consultants to really perfect your plans, we can help you out with that as well. Our team will talk to you, work out your objectives and offer clever solutions – all while never talking over you or disregarding your wishes.
Additionally, we will follow all of New Zealand's home building regulations and ensure that your new house is beautiful, functional and safe. We have all the knowledge and training we need to get the job done correctly.
If you would like to speak to us about your construction project wishes, please feel free to contact our excellent team at 022 6935871.
Create your own personalised and unique residence with Muller's Construction Northland home builders!